Insulation

Chances are you are losing money through your attic from lack of insulation. The insulation in your attic accounts for 30% of the total energy efficiency of your home!
Why insulating your attic is important: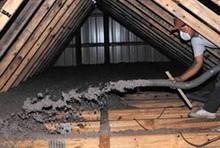 Save money on your energy bill.
Cellulose provides extremely effective fire retardant capabilities.
Cellulose insulation is made of recycled newsprint and is considered a Green product.
Insulating your attic is one of the most cost-effective upgrades you can do to your home!
Attic insulation will increase the energy efficiency of your home in
both heating and cooling
Attic Insulation
H&H Exteriors has been certified by Owens Corning as an AttiCat® Insulation installer.
Winter cold and chill winds can turn your home into an icebox and push your monthly heating bills sky high. One of the most effective ways to make your home more comfortable and save on energy bills is through proper attic insulation. Insulation from H&H Roofing is the simplest way to reduce your energy bills and stay more comfortable.
Since warm air rises, the most effective location for insulation is your attic. Attic insulation keeps your home warm in winter and cool in the summer. As heat rises in your home it naturally moves to cooler areas and places where temperature differences are measurable. By insulating your attic spaces you provide resistance to heat flow ensuring that heated or cooled air remains in the interior and isn't escaping through your ceiling and roof.
AttiCat® pink fiberglass insulation is blown in using a patented system, breaking it up and fluffing it, adding millions of tiny air pockets that give the material its insulating power. The insulation is conditioned further throughout the length of the hose, and as it bounces its way up to your attic, more and more air pockets are added, increasing its insulating power even more. And since Fiberglas™ insulation will not settle, it will keep its energy-saving R-value over time.
We'll be happy to explain about easy, affordable AttiCat® insulation that will result in savings on energy bills you'll see immediately.
GET A FREE SPOKANE ROOFING OR INSULATION ESTIMATE
Make the right choice for your Spokane roofing, gutters, and or insulation project. Call H&H Roofing, the roofing contractors Spokane WA homeowners trust for quality, service and value. Call 509-326-7903 for a FREE estimate from the leading Spokane roofing company.
Financing Available
Asking about our affordable financing options for roofing, insulation, and gutters.
Financing options