Gutters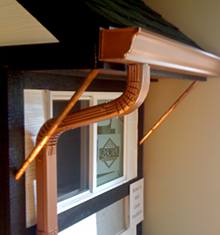 Seamless Rain Gutters
H&H Roofing installs custom seamless rain gutters. "Seamless" means there are no joints (and no leaks)! Our gutters are custom-made on the premises to fit your home.
We offer aluminum, copper and steel gutters.
The finish on the materials is warranted not to blister, flake, chip crack or peel for a period of 20 years.
Key Benefits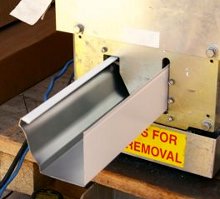 No need to repaint year after year
Many different colors available
Hidden hangers with screws, not nails
More uniform appearance
Full gutter systems can usually be
installed in less than one day!
Photo Gallery
Resources

Browse available colors for seamless gutters.
View sample colors
THE IMPORTANCE OF YOUR SPOKANE GUTTERS.
A well-designed roof does a good job of keeping water from entering your home by deflecting rainwater toward the roof edge. From there a quality gutter system finishes the job by conducting the water down and away from the home itself.
Without gutters, water spilling off the roof would wear away siding, windows, lower roofs, foundation, landscaping - anything in the path of cascading water. Water entering your home can stain walls, rot wood framing, even crack a cement foundation.
That's why a properly functioning gutter and downspout system from the Spokane roofing experts at H&H Roofing is essential to prevent water from entering your home and causing flooding and structural damage. Our roofing systems include a gutter system that is properly designed, fabricated and installed to provide the necessary capacity to handle almost any amount of runoff.
Gutters and downspouts must be the right size to accommodate the expected volume of water without filling up and overflowing, all while looking proportional to your home. H&H Roofing installs seamless aluminum or copper gutters to provide the highest durability and dependability.
H&H Roofing is the Spokane roofing company that provides complete gutter services, including:
Inspection & cleaning
Gutter repairs
Gutter replacement
Gutter protection systems
Custom gutters & downspouts
Trust the Spokane gutters professionals from H&H Roofing.
GET A FREE SPOKANE ROOFING & GUTTERS ESTIMATE
Make the right choice for your Spokane gutters, roofing, or insulation project. Call H&H Roofing, the roofing contractors Spokane WA homeowners trust for quality, service and value. Call 509-326-7903 for a FREE estimate from the leading Spokane roofing company.
Financing Available
Asking about our affordable financing options for roofing, insulation, and gutters.
Financing options